Total ISP billing (TISP) is a revolutionary application from Universal IT Solutions, mainly for internet service providers (ISP). It unifies the billing of ISP services, and introduces innovative features that enhance operations of ISPs.
Generally, a typical ISP provides services that require intermittent access and fixed access. For intermittent access, systems are usually setup to authenticate through a RADIUS/AAA server that handles billing. For fixed access, billing and disconnection is usually done manually using tools like MS Excel to track payments, router access lists to block expired users, etc. This is fine for a small ISP until the number of users grows. Managing fixed access services of more than 30 clients could prove daunting with expired users sometimes slipping through.
TISP provides an automated and efficient way of billing ISP services.
TISP provides complete revenue management and billing for ISP services.
TISP was developed with the following design principles
Automation - minimal man power is needed to operate all ISP services, with customers being able to check status of their services, and manage parts of their own account
Flexibility - allows for faster adaptation to the competitive and dynamic ISP marketplace
Feature richness - provides very useful features that solve billing challenges of most ISP's
Simplicity - web-based system that is very intuitive and easy to use
Affordability - TISP employs open source tools and applications to minimize the total cost of ownership
Some of the features of TISP are:
Web-based cross-platform application
Uses relational databases
Multiple access application
Controls IP-based services
Controls access by radius account
Controls access by date
Controls access by time of day
Controls web hosting services
Multiple services per client
Radius support
Automatic and manual invoicing
Automatic emailing of invoices and reminders to customers
Centralized billing email management
System activity notifications by email
Audit trail
Easy database backup and restore
Easy customization for ISP
Access/privilege control
NAT traversal
Supports multiple TISP (control) routers
Customer can access system and check status of account
Graphical reports on setups, service groups, payments
Supports multiple currencies GH¢, $, £, €
Supports various payment types
Automatic mailing of e-receipt to customer on payments
Supports multiple taxes
Supports tax exemption
Supports communication tax (Ghana)
TISP System Architecture
1. Single server deployment (ie. one server for billing and routing)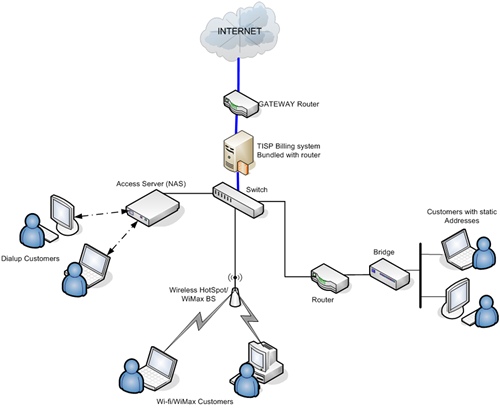 2. Enterprise Setup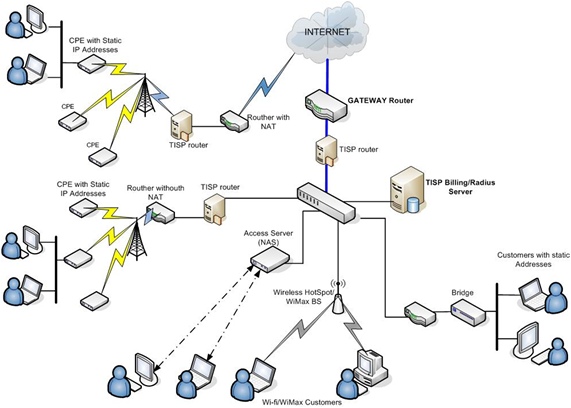 Screenshots


Contact us to learn more about our company, services and capabilities.
To start a dialogue with our consulting representative, please complete the following
Request Information
form, and one of our representatives shall contact you shortly.